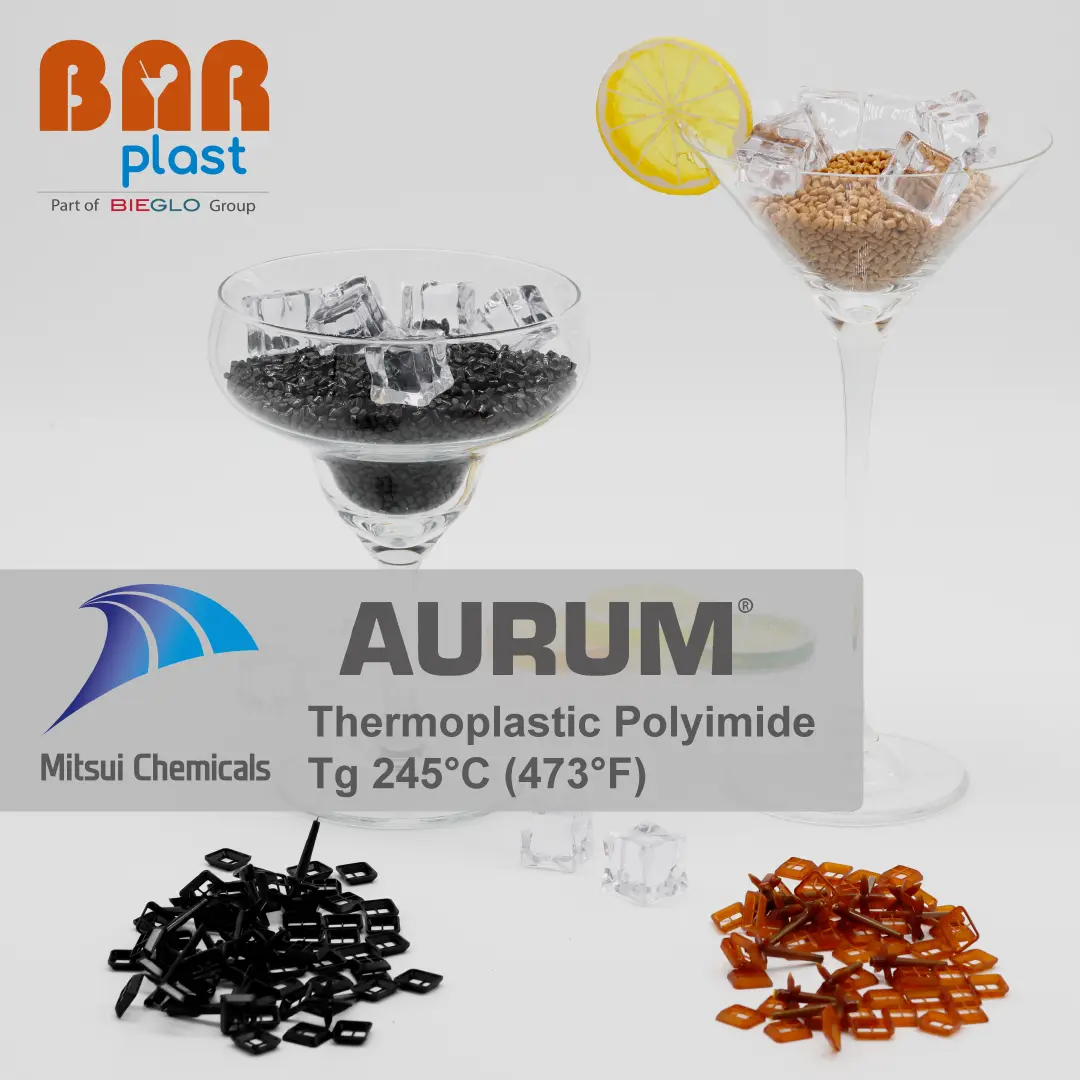 BARplast LLC at SEMICON West presenting High Performance Polymers – Polyimides and PEEK
BARplast LLC, a distributor of high-performance plastics, will exhibit in SEMICON West 2023. Additionally, it will showcase its latest products, including AURUM®, a Thermoplastic Polyimide (TPI)  from Mitsui Chemicals, PBI, PIs Thermosetting Polyimide, and PEEK, during the event.
AURUM®  is a high-performance thermoplastic with Properties such as low outgasing, high purity, excellent tribological properties, moreover this compounds can help prevent particle contamination and achieve more reliable wafer handling, storage and transfer. The semiconductor industry uses AURUM® for sealing ICs, wafer bonding, manufacturing test sockets, and as a substrate element for high-performance PCBs.
Its reliability, durability, and exceptional performance make AURUM® a sought-after Polymer in demanding electronic applications. Notably, the innovative Polyimide has a glass transition temperature (Tg) of 245°C (473°F) making it perfect for demanding applications in hot environments.
Moving on, Polybenzimidazole (PBI) is a thermoplastic polymer. It posses a glass transition temperature of 800 °F and a broad chemical resistance.
Within the Semiconductor industry, the thermoplastics have applications as retaining rings, screws, feeder rings, wafer handling, wafer spin chucks, furnace ring holders, focus rings, wafer clamps, vacuum pads, and wafer carriers.
DAELIM PLAVIS Co. Ltd. manufactures thermosetting Polyimide series that offer dimensional stability at high temperatures. Moreover it is a versatile choice as it is lighter than metals and more flexible than ceramics.
This series finds successful applications in wafer processing and features ultra-clean composition, low outgassing, low dielectric constant, easy machinability, and very high distortion temperatur. Thus, this Polyimide is an ideal choice due to its high-purity for various Semicon applications.
Several grades of PEEK compounds are offered by BARplast, which has proven to be compelling Polymers in the semiconductor industry. Thanks to their higher wear resistance, CMP rings made of PEEK can run up to twice as long as PPS before they need to be replaced.
Granules, powder, Semi-finished and finished parts of high-performance polymers are sold by BARplast and the company has a global network of High Perfromance Polymers suppliers.
Regarding our presence at the SEMICON West, We would exhibit  from July 11-13, 2023, at the Moscone Center in San Francisco. Therefore,we invite attendees to visit the BARplast booth #1937 to learn more about the High Performance Polymer portfolio.
About BARplast:
BARplast is a subsidiary of BIEGLO Group a distributor of high -performance plastics based in Hamburg, Germany. With over 10 years of experience BIEGLO is serving a wide range of industries, including aerospace, automotive, electrical and more.
Therefore, BIEGLO Group endeavours to offer their range of special HPP products to its global customers by running generic web-shops as www.PEEK-shop.com , www.POLYIMIDE-shop.com , www.PAI-shop.de and www.PBI-shop.de.

BARplast LLC at SEMICON West